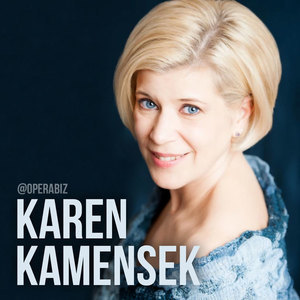 Karen Kamensek, Conductor
Special guest
The 2019/20 season demonstrates Karen Kamensek's remarkable versatility and expansive artistry. Among her high-profile conducting debuts this season is her long-awaited Metropolitan Opera debut with Glass' Akhnaten—a production, under her direction, that recently won the coveted Olivier Award in London—as well as debuts with the London Philharmonic Orchestra at the Royal Festival Hall and the Los Angeles Philharmonic at the Walt Disney Concert Hall.
Diverse repertoire, additional debuts, welcome returns and dynamic collaborations round out Ms. Kamensek's 2019/20 season. Works by Glass, Takemitsu, Pépin, Shankar, Beethoven, Mozart, Walton and Ravel outline her numerous guest-conducting appearances.
Ms. Kamensek will make additional debuts in 2019/20 with the Malmö Symphony Orchestra, the Hungarian National Philharmonic Orchestra, and the Polish National Radio Symphony Orchestra as well as with the Minnesota Opera conducting Mozart's Don Giovanni. A new production of Puccini's La Bohème will usher in her welcome return to the Göteborg Opera.
In 2019/20 Ms. Kamensek will collaborate with such renowned singers as Anthony Roth Costanzo and J'Nai Bridges; directors such as Phelim McDermott; and instrumentalists such as Daniel Hope, Alban Gerhardt and Anoushka Shankar.
Ms. Kamensek served as the Music Director of the Staatsoper Hannover from 2011-2016. She has also served as the 1st Kapellmeister at the Volksoper Wien (2000-2002), Music Director of the Theater Freiburg (2003-2006), Interim Music Director at the Slovenian National Theatre in Maribor (2007-2008), and Associate Music Director at Staatsoper Hamburg (2008-2011).
Frequently in demand as a guest conductor with many of today's most prominent opera companies and orchestras, Ms. Kamensek's recent opera highlights include her debut and return performances with the English National Opera in Glass' Akhnaten; her debut with the San Francisco Opera conducting a new production of Floyd's Susannah with soprano Patricia Racette; and the Royal Swedish Opera's production of Victoria Borisova-Ollas' Dracula.
Recent orchestral highlights include a focus on living-composer Thea Musgrave for Ms. Kamensek's debut with the Royal Stockholm Philharmonic as part of their highly-lauded Composer Festival; a live-to-film performance of Miloš Forman's iconic Oscar-winning film, Amadeus, marked her debut with the Oslo Philharmonic; and performances of Philip Glass'/Ravi Shankar's collaboration Passages with master sitar player, Anoushka Shankar, outlined her first performances leading the Britten Symphonia in Royal Albert Hall as part of the BBC Proms as well as the Orchestre Chambre de Paris in the Paris Philharmonie.
Ms. Kamensek regularly collaborates with singers, directors, and instrumentalists from across the globe. She has worked with many renowned singers, including Joseph Calleja, Anthony Roth Costanzo, Andrzej Dobber, Elza van den Heever, Brandon Jovanovich, Lise Lindstrom, Ambrogio Maestri, Thomas Johannes Mayer, Patricia Racette, Stuart Skelton and Klaus Florian Vogt. She has partnered with such groundbreaking directors as Guy Joosten, Harry Kupfer, Uwe Eric Laufenberg, Phelim McDermott, and Olivier Tambosi. She has led performances featuring critically-acclaimed instrumentalists such as Michael Barenboim, Gautier Capuçon, Renaud Capuçon, David Aaron Carpenter, Lynn Harrell, Louis Lortie, Olli Mustonen, Ida Nielsen, Benjamin Schmid and Tanja Tetzlaff.
Karen Kamensek, Conductor has been a guest on 1 episode.
30 October 2019 | 53 mins 41 secs

akhnaten, conductor

Making her Metropolitan Opera conducting debut this season, Karen Kamensek sits down to discuss her road to conducting, her collaboration with Philip Glass, and a largely European career. She shares her insights on Glass' music as well as a fresh perspective on life on the podium.